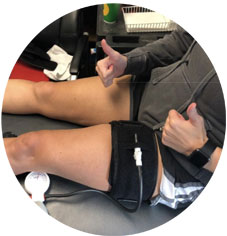 WHAT IS IT?
Blood Flow Restriction Therapy (BFR) is a brief and intermittent restriction of blood flow to the extremities. It is done by applying a tourniquet and allows muscle to grow in both strength and size faster.
HOW DOES IT WORK?
(BFR) creates a hypoxic environment within the target muscle group, which allows exercising at light loads that creates a significant strength and hypertrophy effect.
WHO CAN BENEFIT FROM BFR?
Blood Flow Restriction Therapy is used with a variety of patients. Some of the many diagnoses with very positive results include total joint replacements, Achilles tendon repairs, fractures, rotator cuff repairs, muscle strains, nerve injuries, post-operative cartilage arthroscopies and reconstructions, and osteoarthritis.
IS BFR THERAPY SAFE?
Absolutely. There are well over 150 peer-reviewed research articles in scientific literature with no reported complications. The tourniquet is applied with pressures based on an individual limb circumference which is found by measuring pressures by a Doppler.
POTENTIAL RESULTS 
Decreased muscle atrophy
Increased strength with lower loads
Increased muscle endurance
Improved muscle activation